Home
»
Florida Outreach Centers
»
Pompano Beach Outreach Centers
Broward County Outreach Center Pompano Beach
1700 Blount Road
Pompano Beach, FL - 33069
954) 979-6365

Join Website

---
Broward County Outreach Center Pompano Beach Information:
This state-of-the-art 200-bed homeless assistance center is in its second year of serving the homeless men, women and families.

The program is designed to be an eight week, full-service homeless shelter, with an average stay of sixty days.

This county facility is managed by the staff of the Broward Outreach Center.

Day services are provided by Saint Lawrence Chapel.

Mission
Transform the lives of homeless men, women and children through comprehensive residential programs to effect lasting change and empower them to be productive members of society. We provide food, shelter, substance abuse treatment, education, computer literacy, job placement, healthcare, spiritual development and housing with Christian love, compassion and encouragement.


OutreachCenters.net: We work hard to provide as much pertinent information as possible about the outreach centers listed on the website. This is a difficult task as their is so much valuable information and such little time to obtain it. If you see that our listing does not provide enough information or is no longer a valid outreach center, please let us know by filling out the comment form below the map.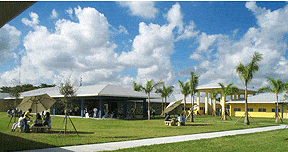 Map of Broward County Outreach Center Pompano Beach
---
Post Comment
Closest Area Shelters